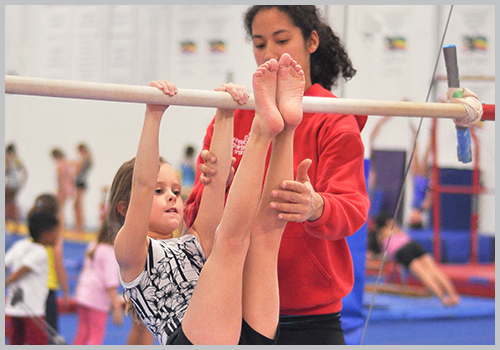 Easter Monday Camp
Join us in our fully-air conditioned facility for a camp full of gymnastics, games, crafts, friends, and fun! Campers will first participate in a large group warm up lead by our camp staff, then they will be divided into smaller groups based on age. They will enjoy time on several pieces of equipment as they rotate through vault, bars, beam, floor, trampoline, and Tumble Track.
About halfway through the morning, campers will break for a snack and morning craft. In the afternoon our camp runs on a similar schedule but with new crafts, games, and activities. All full day campers will receive a lunch break.
Pickering Athletic Centre camps are open to students ages 4-15 (must be fully toilet trained to participate).

Schedule & Pricing
Full day:
9:00 a.m.-4:00 p.m.
$60.00/day
Half day:
Morning: 9:00 a.m.-12:00 p.m. or
Afternoon: 1:00-4:00 p.m.
$40.00/day
Registration Fee (non-members): Non-refundable Gymnastics Ontario registration fee of $35+HST is due per child upon enrollment. Registration is valid for all Pickering Athletic Centre camps, classes, and events from July 1, 2018 – June 30, 2019.
Save 10% off camp: Upgrade to our Platinum membership and save 10% off camp. The upgraded membership is $55+HST/child and includes the mandatory Gymnastics Ontario registration fee above. The upgrade pays for itself after just one week of camp and there are no limits on how many discounted camps or events your child may enjoy each year.
Extended Care
Pickering Athletic Centre offers extended care for those who require an early drop off or late pick up. During these times, your children will enjoy time in our camp rooms, doing puzzles, games, and colouring activities. Please notify our office ahead of time if you will require extended care.
Before care: Available 7:00-9:00 a.m.
Cost: $5.00/child, per day
After care: Available 4:00-6:00 p.m.
Cost: $5.00/child, per day
All fees are subject to tax.
Lunch & Snacks
Pickering Athletic Centre does not provide any food. Please ensure the food your camper is bringing into the facility is nut-free.
Full-day campers receive a lunch break and two snack breaks each day. Half-day campers receive a snack break. Please label all lunch bags and water bottles. Children are welcome to bring non-glass water bottles in the gym (water only).
Cancellations
Camp cancellations must be made within 30 days of the camp date. Cancellations made less than 30 days before the camp date are subject to a cancellation fee of $50.00. The Gymnastics Ontario registration fee that is due upon enrollment is non-refundable.
Virtual Tour
Haven't visited us before? Take a virtual tour of our facility!
Download Our App
Enroll, view events, make payments, and more! Search "Pickering Athletic Centre" in the App Store or Google Play.