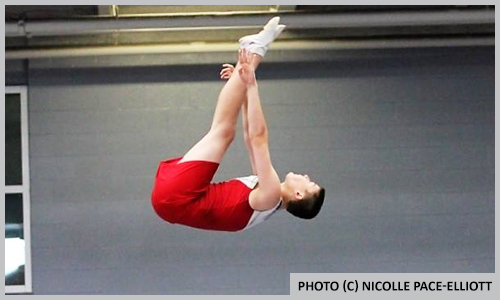 Competitive Trampoline Tryouts
We invite you to tryout for our Competitive Trampoline teams for the 2018-19 season! Anyone interested in trying out may contact Sarah Nicholson at tandt@pickeringathleticcentre.com to reserve a tryout time.
Pre-Competitive Team
Born 2011-2013
2 hours per week
Interclub Team
Born 2003-2011
6+ hours per week
Pre-National & National Team
Born 1998-2010
Hours based on level
Masters Team
Born 1960-2003
2 hours per week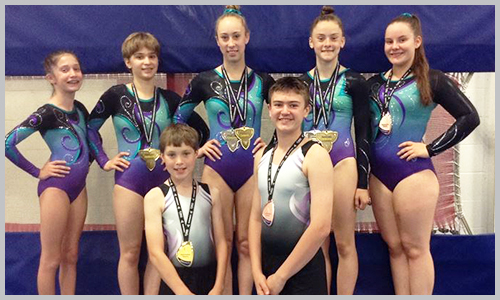 Trampoline & Double-Mini
We are proud to be able to offer a variety of levels of competitive gymnastics, trampoline, and double mini. The following is a brief description of the different Competitive Trampoline and Double-Mini groups.
Please note that testing is required for acceptance into the Competitive Trampoline program and placement in the program is at the discretion of the coaching staff.
2018-19 Competitive Handbook and Forms
Interclub Program
The Interclub Program includes Showcase, Interclub, and Masters.
Athletes will compete at approximately 3-5 competitions per year. Some competitions are mandatory and some are optional. Competitions will all be within Ontario with a majority of competitions within the GTA.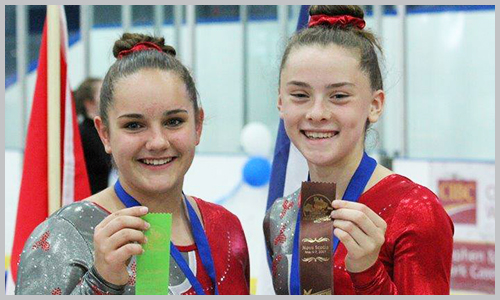 Pre-National Program
The Provincial program is comprised of Levels 1-4.
Athletes will compete at 3 Ontario Cups across Ontario in hopes of qualifying for the Ontario Championships. These competitions are all mandatory and within Ontario. Athletes may also attend Invitational competitions which are usually optional. Athletes at this level may also work to qualify for additional competitions representing Team Ontario, these competitions are optional. Athletes may have the opportunity to attend at PAC travel meet outside of Ontario.
Athletes in Level 4 may work towards their National mobility scores which may be achieved at specific competitions set out by Gymnastics Ontario and Gymnastics Canada.
National Program
Athletes will compete at a combination of meets throughout the year. All competitions are mandatory unless directly specified by the coordinator. Some competitions require team travel with PAC, Ontario, and/or Canada.
Athletes may work towards their National mobility scores which may be achieved at specific competitions set out by Gymnastics Ontario and Gymnastics Canada.
Eligible athletes may also compete at Ontario Championships. The results from this competition determine the athlete's placement and possibility of competing at Eastern Canadian Championships or National Championships. National athletes also compete at a number of invitational competitions each year. Once attendance has been confirmed for a competition fees are required regardless of potential of withdrawal.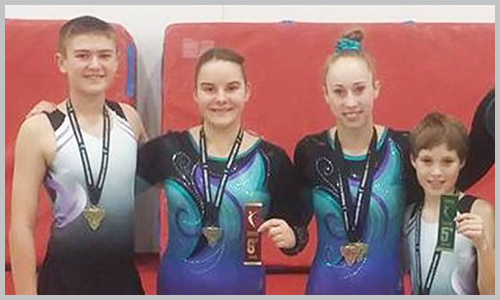 Coaches Expenses
Families of athletes who participate in each event are required to share equally in the expenses incurred by the coaching staff. The program coordinators and coaches make every effort to keep costs down for families by carpooling, sharing hotel rooms, etc. Coaches expenses include, but are not limited to, mileage, accommodations, coaching time, and meals for competitions, training camps, workshops, etc.
The cost of all coaches' expenses will be totaled, and equally divided amongst all participating athletes at that event. Coaches expenses will usually be invoiced to you within 2 weeks of an event. If there are events held close together, the Office Administration may wait and bill you after the next event instead. Expenses are required to be paid in full upon receipt of invoice.
Attendance
Regular, punctual attendance is important if the athlete is to get the benefit of training sessions. This includes summer months. Families are requested to notify the club/coaches, in advance if possible, if an athlete is going to miss a practice.
Drop off and pick up: The athlete must be picked up promptly when class ends. If your child is picked up late, you will be charged a LATE FEE of $1.00 per minute which is payable directly to the coach upon pick up. This also applies to early drop off. All athletes age 13 and under must be dropped off and picked up inside the gym.
The yearly training fees are prorated to include the following:
– Four weeks vacation for the athletes
– All long weekends (all stat/civic will be off)
– Time for team building activities
Failure to attend 75% of your scheduled training will result in the removal from our competitive program.
Attire & Fees
In addition to your training fees, you will be required to purchase the following items. Please note that styles for training suits, competitive leotards, warm up suits, and demonstration leotards may change year to year, requiring new purchases.
Club training suit – $60-100
Competitive leotard – $150-250
Competitive warm up suit – $150-200
Demonstration leotards (as required) – $50-100
Competitive team bag – $50-150
Meet fees – $75-150 per meet
Hotel and other travel costs, if required
Training leotards – $40-80
Trampoline/Double-Mini shoes – $40-100
Virtual Tour
Haven't visited us before? Take a virtual tour of our facility!
Download Our App
Enroll, view events, make payments, and more! Search "Pickering Athletic Centre" in the App Store or Google Play.